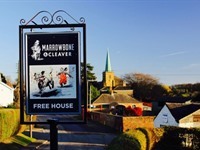 We Recommend the Marrowbone and Cleaver!
Being only 1 mile away from Croxton House, the pub, owned by Guy Martin and his sister Sally serves great food and offers a warm welcome!
If you are a fan of racer and TV presenter Guy, and local aviation history, then the
Marrowbone and Cleaver
is the place for you. Murals in the car park and restaurant show the connection of Kirmington and the RAF 166 Squadron - as well as a stained glass window dedicated to them.
For ale lovers, Guy and Batemans brewery have created a unique brew: Skull and Spanners.
Booking is highly recommended. Call the team on 01652 688335 and don't forget to mention Croxton House Bed and Breakfast!